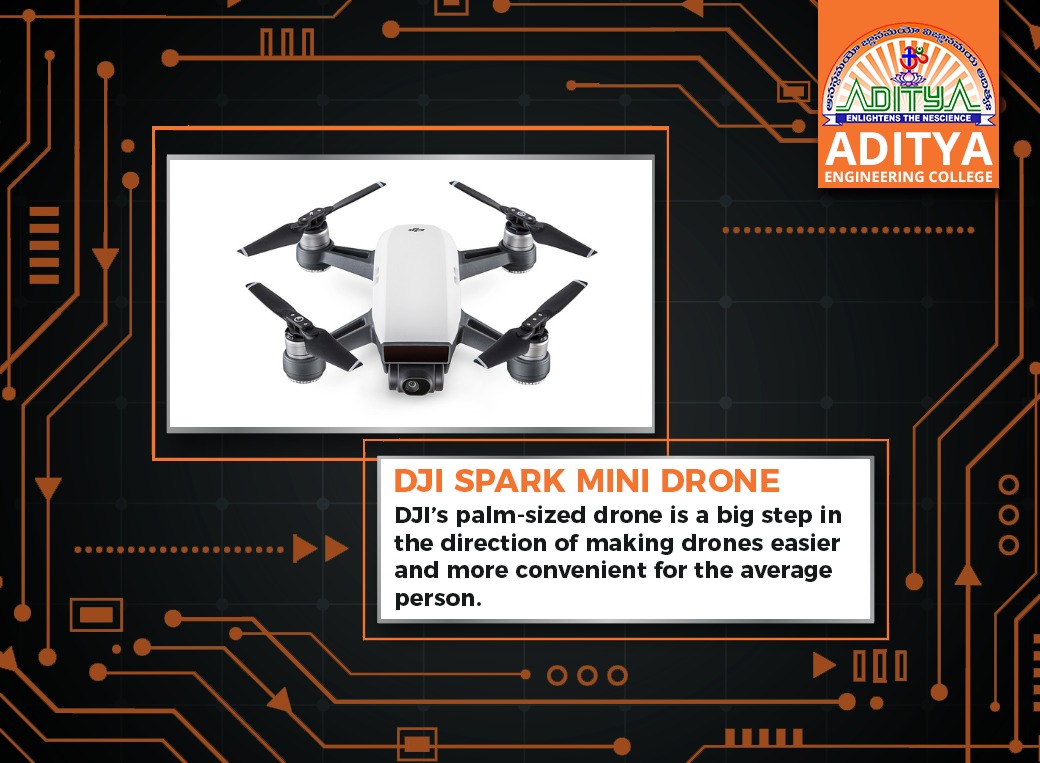 The smaller and more affordable DJI spark drone arrived today. It's an easy-to-fly mini drone that features all of DJI's signature technologies, including intelligent flight control options, a mechanical gimbal, and a 1080p camera.
One of the interesting new features in spark is that the drone can take off from your hand and be controlled by hand gestures and it automatically enters Gesture Mode when it takes off from your hand. You can also control with smartphone.
This mini drone has a new Quick Shot Intelligent Flight Mode, will fly along a present flight path while recording a short video and track a subject along the way and also  Rocket, Dronie, Circle, and Helix modes are available to send the Spark on different flight tracks to create different visual effects. Moreover it has previous Intelligent Flight Modes such as Tap Fly and Active Track are also available.
Spark's camera is designed with two-axis gimbal and can capture 1080p video and 12-megapixel photos. Drone can shoot one minute of footage and edit it down to 10 seconds for you to share. The Spark has on-board sensors that can allow it to dodge obstacles with the drone's top speed maxing out at 31 miles per hour. It will be available in five colours: Alpine White, Sky Blue, Meadow Green, Lava Red, and Sunrise Yellow.
Now it is available in all online shopping portals…..
The following are the Specifications:
Take-off Weight
300 g
Dimensions
143×143×55 mm
Diagonal Distance (propellers excluded)
170 mm
Max Ascent Speed
9.8 ft/s (3 m/s) in Sport Mode without wind
Max Descent Speed
9.8 ft/s (3 m/s) in Auto Landing Mode
Max Speed
31 mph (50 kph) in Sport Mode without wind
Max Service Ceiling Above Sea Level
13,123 feet (4,000 m)
Max Flight Time
16 minutes (no wind at a consistent 12.4 mph (20 kph))
Max Hovering Time
15 minutes (no wind)
Operating Temperature Range
32° to 104° F (0° to 40° C)
Satellite Positioning Systems
GPS/GLONASS
Hover Accuracy Range
Vertical:
+/- 0.1 m (when Vision Positioning is active) or +/-0.5 m
Horizontal:
+/- 0.3 m (when Vision Positioning is active) or +/-1.5 m
Transmitter Power (EIRP)
2.4 GHz
FCC: 25 dBm; CE: 18 dBm; SRRC: 18 dBm; MIC:18 dBm
5.8 GHz
FCC: 27 dBm; CE: 14 dBm; SRRC: 27 dBm; MIC: –
Operating Frequency
2.400 – 2.483 GHz; 5.725 – 5.825 GHz
3D SENSING SYSTEM
| | |
| --- | --- |
| Obstacle Sensing Range | 1-16 ft (0.2 – 5 m) |
| Operating Environment | Detects diffuse reflective surfaces (>20%) larger than 20×20 cm (walls, trees, people, etc.) |
CAMERA
Sensor
1/2.3″ CMOS
Effective pixels: 12 MP
Lens
FOV 81.9° 25 mm (35 mm format equivalent) f/2.6
(shooting range: 2 m to ∞)
ISO Range
Video: 100-3200
Photo: 100-1600
Electronic Shutter Speed
2-1/8000 s
Image Size
3968×2976
1440×1080 with ShallowFocus
2300×1280 with Pano (horizontal)
960×1280 with Pano (vertical)
Still Photography Modes
Single Shot
Burst Shooting: 3 frames
Auto Exposure Bracketing (AEB): 3 bracketed frames at 0.7 EV bias
Interval: 2/3/5/7/10/15/20/30/60 s
Video Resolution
FHD: 1920×1080 30p
Max Video Bitrate
24 Mbps
Supported File Systems
FAT32
Photo Format
JPEG
Video Format
MP4 (MPEG-4 AVC/H.264)
REMOTE CONTROLLER
Operating Frequency
2.412-2.462 GHz; 5.745-5.825 GHz
Max Transmission Distance
2.412 – 2.462 GHz (unobstructed, free of interference)
FCC: 1.2 mi (2 km); CE: 0.3 mi (500 m)
SRRC: 0.3 mi (500 m); MIC: 0.3 mi (500 m)
5.745 – 5.825 GHz (unobstructed, free of interference)
FCC: 1.2 mi (2 km); CE: 0.18 mi (300 m)
SRRC: 0.7 mi (1.2 km); MIC: –
Operating Temperature Range
32° to 104° F (0° to 40° C)
Battery
2970 mAh
Transmitter Power (EIRP)
2.4 GHz
FCC: ≤26 dBm; CE: ≤18 dBm; SRCC: ≤18 dBm; MIC: ≤18 dBm
5.8 GHz
FCC: ≤28 dBm; CE: ≤14 dBm; SRCC: ≤26 dBm; MIC: –
Operating Current/Voltage
950 mAh @3.7 V
Supported Mobile Device Size
Thickness range: 6.5-8.5 mm
Max length: 160 mm
INTELLIGENT FLIGHT BATTERY
| | |
| --- | --- |
| Capacity | 1480 mAh |
| Voltage | 11.4 V |
| Max Charging Voltage | 13.05 V |
| Battery Type | LiPo 3S |
| Energy | 16.87 Wh |
| Net Weight | Approx. 0.2 lbs (95 g) |
| Charging Temperature Range | 41° to 104° F (5° to 40° C) |
For more Information visit https://www.dji.com/spark