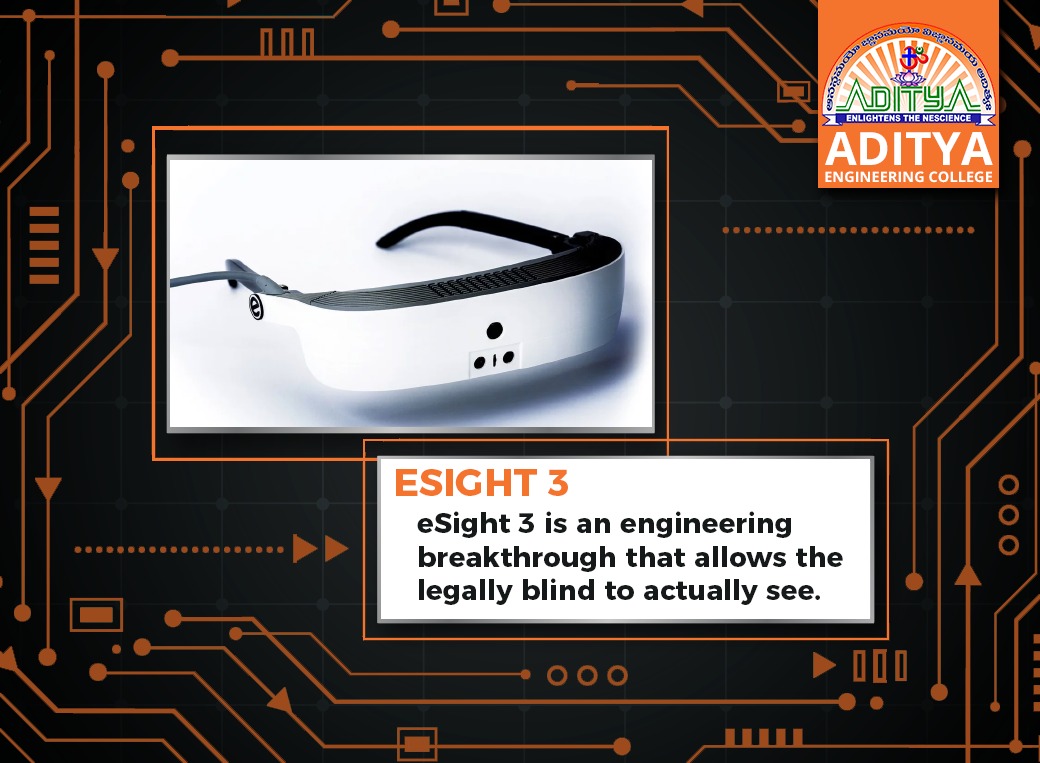 eSight 3 looks like VR but while most virtual reality systems are built to make digital worlds more realistic, the eSight aims to do just the opposite. It uses augmented reality headsets and digital technology to help bring the real world to individuals who are legally blind. eSight 3 have Bioptic Tilt" technology and allows the user to easily change the headset's position and seamlessly switch between ranges of vision, depending on the task, environment or social situation. And it is clinically-validated and patented engineering breakthrough those who are living with low vision can experience a dramatically improved quality of life and can independently engage in many professional, academic, or personal activities the way the sighted can. eSight3 is a wearable, hands-free solution that provides sight without the need for surgery.
Basically it is designed with high-speed HD camera and two OLED displays; video is processed algorithmically to enhance contrast and quality which allows users with vision issues to better see the world around them. It is a fully portable device with roughly six hours of battery life that's controlled using an attached remote.
There are also some technical challenges to consider when designing a device that's designed to help replicate human vision. Low-latency is key to ensure that the viewer is seeing the world in as close to real time as possible as is maximizing peripheral vision so that users don't get nauseous or lose balance and  allowing users to transition between nearsighted objects to long distance at ease as well as offering the ability to manually zoom in on items.
"eSight 3 is the culmination of over 10 years of research and development led by the world's largest most knowledgeable lab in the world dedicated to eradicating vision loss through wearable technology " said Dr. Brian Mech". I am incredibly proud of the hard work- our team has undertaken; especially in obtaining the necessary approvals to commercialize our technology in the complex European market. Ahead of this important milestone we are honored to have had some of North America's top medical institutions and eye care professionals clinically validate eSight. Our fundamental belief is that everyone deserves to see and bringing our technology to Europe is yet another key step in fulfilling our global mission."
Dr. Jane Macnaughton MCOptom Prof Cert LV describes eSight as "the first head mounted device that offers real potential for the visually impaired. There is nothing comparable in the marketplace and I am excited to see where this technology is going to take us."
User Experiences:
Brian Casey, one of Europe's first users of eSight, explained, "I lost my sight 27 years ago after two separate and sudden sports injuries. I was immediately registered as severely sight impaired. I spent several months going from clinic to clinic, but medics could not repair or remedy the damage. Every doctor told me that there was nothing they could do for me. I was ultimately let go from my job and sank into depression."
"But recently, I learned about eSight — electronic glasses that help the severely sight impaired actually see. I will never forget the moment I first tried on eSight. I saw my wife's face for the first time, an experience that I will remember forever. She was even more beautiful than I expected."
"eSight has the potential to completely transform my life. With eSight, my visual acuity has returned to 20/20 and I am able to perform my job in a whole new way. As a low vision worker, I have committed my life to assisting others in regaining confidence and independence in their lives. Now, I can proudly share with my patients the same opportunity that I have had with eSight, and I am pleased to know that eSight can help others in Europe who are living with a visual impairment."
eSight 3 is available now. For more information please visit eSightEyewear.com.