Aditya Nursing Academy is a community of scholars and practitioners dedicated to the enhancement of human well-being through education of inquisitive students,creative innovation within practice, and development. It is the ardent belief of our Chairman that: enjoyment of the highest attainable standard of health is a right of all people: nursing is an art and science whose goal is to support optimal health of all. Since 6 years of its inception this sapling is ever growing & blooming spreading its fragrance all through Andhra Pradesh as well as in the country as our students are spread right from Kashmir to Kanyakumari.
OBJECTIVES :
To develop skills in individual nursing care and to instill in the students an attitude for nursing.
To develop the skills to acquire the ability in the nursing field by providing efficient guidance both in theory and practical field of work.
To help the students to get selection to serve in Multi-Speciality Hospitals through the placement guidance.
To develop the necessary communication skills besides professional skills to enable them to secure high profile job opportunities.
To provide coaching for TOEFL & TSE Examinations and CGFNS to enable the students to fulfil their professional ambitions through placement in foreign nursing institutions.
ELIGIBILITY FOR ADMISSION:
For B.Sc. Nursing Course :
Girls who pass Intermediate or 10+2 years of study with Bi.P.C. group with 45% aggregate marks are eligible.
For General Nursing and Midwifery Course:
Girls with a pass in Intermediate / 10+2 course of study with any group.
COURSE DETAILS:
Both the courses are sanctioned by the Govt. of A.P.
Indian Nursing Council, New Delhi has recognized both the Courses.
The Courses are affiliated to NTR University to Health Sciences, Vijayawada and Director of Medical Education, Govt. of A.P.
REQUIRED DOCUMENTS
At the time of admissions the students of other states have to submit:
i) X & XII Marks list
ii) Study Certificate
iii) Transfer Certificate
iv) Migration Certificate
v) Three sets of Photostat copies of all original certificates
vi) 8 Passport size photos
RULES & REGULATIONS
Students should not wear objectionable dresses.
They are not allowed to bring gold jewelers or any other valuable items.
They are not allowed to keep any electrical and electronic appliances like cell phones, I-pods, FM radio's, Walkman, Cameras, Iron boxes and Water heaters.
Students should not carry any cash with them, rather it has to be deposited in the bank / stores cash officer.
College authorities are not responsible for the loss of any such above mentioned items.
An impression that hostel is a congested den is wiped out and Aditya established it as a place of affection with Parental Care.
The hostel for nursing students is situated in four storied modern building with marble flooring, spacious & well ventilated rooms with attached bath can accommodate 600 girls is the jewel of Aditya in Institutions.
The most serene atmosphere, the hygienic & balanced diet and the disciplined administration make our hostels the best. A separate mineral water plant exclusively for hostel students & steam cooking system add a feather to the cap. Regular medical checkup by the most experienced and reputed doctors of the town.
The Hostel is managed under the motherly supervision of Smt. N. Lakshnmi Rajyam, who has dedicate her full time for providing best facilities to the students of the Hostels. The hostels are acclaimed as one of the best hostels in Andhra Pradesh.
Management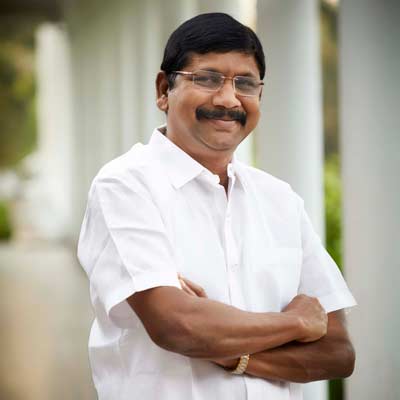 Sri.N.SESHA REDDY
Chairman
Sri.N.SESHA REDDY
Chairman
ADITYA NURSING ACADEMY is a dream project of the Great visionary Sri N. Sesha Reddy, M.L.A., Anaparthy constituency; founder Chairman of ADITYA EDUCATIONAL GROUP which is 50 institutions, 5000 employees and 50,000 students in various streams right from KG to PG including all professional courses and who has 25+ years of experience in the field of education.
It is the ardent belief of our Chairman that: enjoyment of the highest attainable standard of health is a right of all people: nursing is an art and science whose goal is to support optimal health of all.
ADITYA has held aloft the vision of excellence in the field of education. In these days of cut-throat competition, mediocrity has neither room nor existence. It is the cherished ambition of our dynamic Chairman to bring out the latent talents and skills of the youth in order to enable them to face the stiff challenges of the global competition.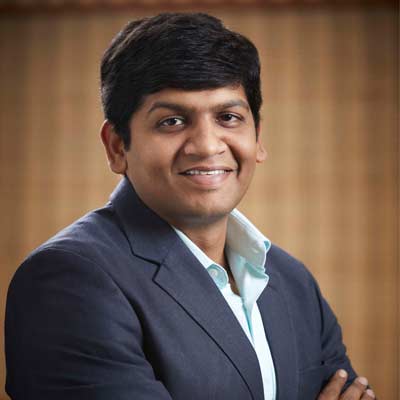 N K Deepak Reddy
Secretary
K Deepak Reddy
Secretary
Aditya Educational Institutions was established in the year 1984 with a sublime thinking, to provide quality education from KG to PG level. Under the able guidance of Sri N. Sesha Reddy, the Founder of the society, it has made its entry into the educational field with a Public School to meet the needs of Primary and Secondary Education. In succession Aditya established a number of Junior Colleges, Degree Colleges, P.G. Colleges, Engineering Colleges, Pharmacy Colleges, Nursing Colleges and Teacher Training Institutions. It has stretched it wings to all focal points in and around several Districts and it has grown in leaps and bounds with rapid strides reaching a staggering figure of 50 educational institutions in different streams with a faculty of 5,000 members and a surging student strength of 50,000. All our institutions are established in a serene atmosphere with rich ambience, excellent infrastructure, efficient manpower, fully equipped labs, exhaustive libraries and advanced state of art technology workshops.
Contact Us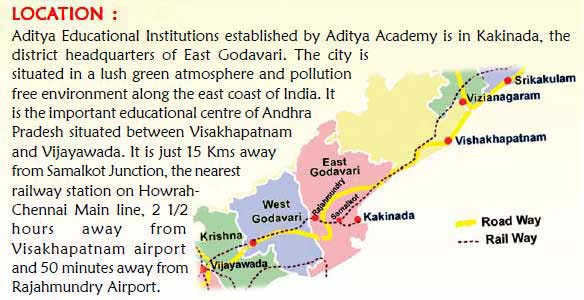 Aditya Academy, Srinagar,
Kakinada-533003.
Mobile : 9963276660
Fax : 0884 2376664
For careers : career@aditya.ac.in