Ways to deal with stress while preparing for competitive exams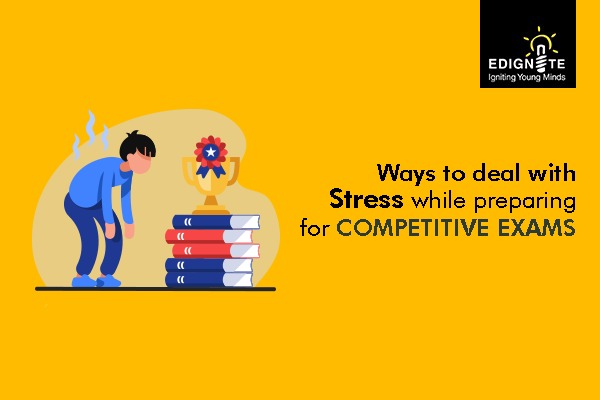 In today's competitive world, to get admission to any renowned college or university, you should confront distinct entrance exams. There is a wide range of competitive exams for admission to courses such as engineering, medical, MBA, and many more.
At the point when the exam season is on, you will get stressed in different ways which can really squeeze out your energy. It is obvious to feel a specific amount of pressure before any examination but if you want to become a high achiever, you will experience high levels of stress.
However, did you know that if the stress crosses its limits it eventually affects your performance? So, don't let the exam stress impact your preparation for competitive exams.
Edignite, here offer you lots of ways that help relieve exam stress and feel relaxed. They will also boost your learning potential, as well!
Let's explore the ways to manage stress while preparing for competitive exams…
1. Try to understand your mind and body
When your body starts stressing out, try to identify it and take a break for a while. Stretch your body because stretching helps relieve muscle tension, increase circulation, and also help you to focus your brain. Try to take a deep breath in between as breathing techniques are one of the fastest and easiest ways to ease the tension and calm the mind.
2. Time management is a key to success
Make a clear plan the day before the exam or the month prior to the exam, so that you will have enough time to cover everything you need. A revision timetable (if designed correctly) helps you show what you should be doing every day before exams. Early morning is also a great time to study as your mind and body are well-rested, so start your day as early as possible.
3. Get plenty of sleep
Study shortly before bed, as the restorative sleep can actually help you retain the information well. A bedtime routine is advised and it is beneficial as it helps relax your body and mind, and it prepares you better for the examination. Therefore, make sure you get plenty of sleep on the night before your exam.
4. Talk to friends and family 
If the exam stress is overwhelming and if you are feeling anxious about your exams, spend your time with a family to handle the exam pressure. Friends can also be a great source of support during exam time. If you find that your friends are also feeling the same as you and as the famous saying a problem shared is a problem halved. 
5. Avoid comparison
While preparing for competitive exams like JEE or NEET, do not compare the amount of hard work you have put in with anyone else because everyone has their own system of learning methodologies. No matter how well you're doing, comparing yourself to other people decreases your self-esteem and take your eyes off your goals. 
6. Always try to be positive
A positive mindset is very crucial to relieve stress during the preparation of competitive exams. It will not only help you develop confidence in your hard work but also create different opportunities that lead to success in the examination. Just believe in yourself and create a positive learning space.
7. Try studying in groups
If you study in groups, it will not only mitigate the exam tension but also avoid procrastination. Group studies encourage you to think creatively and build strong communication skills which help in refining your understanding of the subject. It also helps feel calm and improve your performance in the exam.
We at Edignite hopes that these exam tips will help you to get through the examination season with ease. All the very best!!