In today's contemporary world, Cyber Forensics is playing a vital role across the Globe. In the present digital era, maximum crimes are cyber based viz. Industrial espionage, Hacking, Child Pornography, Bank Frauds, Cyber Stalking, Phishing, Identity Theft, Social Engineering, and Cyber Terrorism so on. As per Computer Emergency Response Team India (CERT-In) 2,08,456 Cyber-attacks were handled only in 2018.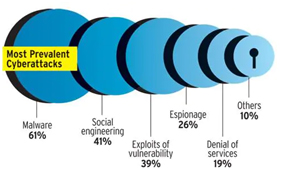 With global cybercrime damages predicted to cost up to $6 trillion annually by 2021, 48% of Data security breaches are caused by acts of malicious intent, Cyber Security Ventures expects ransom ware costs will rise to $11.5 billion in 2019, Cyber crime will more than triple the number of unfilled cyber security jobs by 2021, not getting caught in the landslide is a matter of taking in the right information and ac acting on it quickly. Further, Governments are planning to setup a Cyber Forensic Laboratories at all the District Head Quarters in India.
By keeping the above facts in view & stipulate for Cyber Security professionals in Computer World, The Adikavi Nannaya University has included Fundamentals of Computers, Networking and security, Cyber Security, Cyber Forensics, , Digital Forensics, Mobile Forensics & Multimedia Forensics subjects in curriculum of B.Sc. Forensic Science. This syllabus helps the students to become experts in Cyber Forensics as it inculcates knowledge from the basics to expert level. This is unique to Adikavi Nannaya University.
Aditya established a separate Computer lab with all the necessary softwares and tools related to cyber forensics. Aditya is giving utmost priority in giving special training on cybercrime investigation to the students.
Cisco Networking Academy is an IT skills and career building program for learning institutions and individuals worldwide. Cisco Networking Academy identifies and develops the skills of the people. It works with educators, employers, and technology experts to create courses that prepare students for the future. The Networking Academy curriculum is delivered through online. Cisco provides the curriculum, learning platform, and support resources. Following are courses available at Dept. of Forensic science:
IT Essentials
Cyber Security
Cyber Security Essentials
Cyber-Ops
EC-Council is a global leader in InfoSec Cyber Security certification programs. The EC-Council is known primarily as a professional certification body. It is the owner and creator of the world-famous Certified Ethical Hacker (C|EH), along with other cybersecurity credentials, such as Certified Network Defender (C|ND), Certified Chief Information Security Officer (C|CISO), Computer Hacking Forensics Investigator (C|HFI), among many others that are offered in over 145 countries globally. Following are courses available at Dept. of Forensic science:
Ethical Hacking Associate
Cyber Forensics Associate