Dr. K. PRATAP REDDY, Academic Director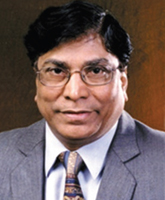 ADITYA GLOBAL BUSINESS SCHOOL has added another dimension to its standing - Dr. K. Pratap Reddy has consented to be the Academic Director. He brings with him depth and range of several specialist fields.
To sketch a verbal portrait of Dr. Reddy is like measuring the immeasurable. With his broad vision and wide spectrum of knowledge, he is an authority on Agriculture and Management Education. An eloquent speaker over the last 3 decades, he leaves his signature across India in several domains.
He is MSc (Agr), FPM, PGP-FPM - OGPA. He is Adjunct Professor of IBS Business School, IFHE University, Hyderabad. Also he is director, Institute of Rural Management, Anand (IRMA), Anand, Gujarat. He served as Director, Food & Agri Business School (FABS), Hyderabad.
His current areas of interest are: Agribusiness Management Rural Development Management; Application of ICTs in Agriculture; Strategic Management, Human Resource Development, Management of Change, Rural Enterprises, and Development Management Issues.
His brief profile is:
Has over 36 years of experience in research, consultancy, teaching and training in agribusiness and rural development management
Published two edited books and over 50 papers and book chapters
Designed and conducted over 30 different types of training programmes
Conducted over 30 consultancy projects for both national and international agencies like FAO, UNICEF, World Bank, etc.
Was on Boards/Executive Councils of several institutions like MANAGE, NIRD, VAMNICOM, Gujarat Agriculture University, KVIB, etc.