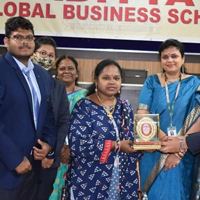 Smt. Ramadevi
Smt. Ramadevi, M.pharm(Ph.D) in the Department of Phamacognsy and Phytochemistry Andhra University, Vishakhapatnam, CEO of Sriram Herbal Industries Vizianagaram District, Andhra Pradesh : Incubate at SSTBI TIRUPATI, Mentoring by IKP KNOWLEDGE PARK HYDERABAD Trained at Packaging Technology from Indian Institute of Packaging, Hyderabad.Project supported by National Institute of Rural Development Rajendranagar Hyderabad.
Rama Devi as an entrepreneur in herbal industries, was invited on the occupation of women's day, she motivated the students to take part in the well development of the nation and motivated the girl students to become an entrepreneur.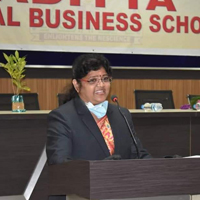 Smt.Satyavathi
Smt.Satyavathi Proprietor, Jai Siva Santhoshe Poly pack A strong women with lot of confidence and runs a poly pack business was also been felicitated on the eve of women's day she spoke regarding the women empowerment.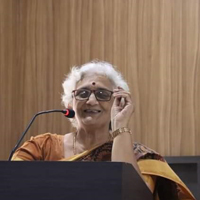 Smt .Bhanumathi garu
Smt .Bhanumathi garu Secretary, ALL INDIA WOMEN'S CONFERENCE, kakinada branch, E C member, Red cross, EG Dist one of the participant in Meelo Evaru Koteeswarudu and a motivator was invited to our Aditya Global Business School campus to guide and inspire the students of our campus.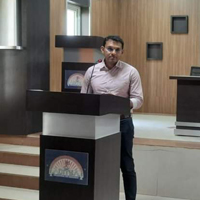 Mr. Babji
CEO,T HUB addressing BBA Digital Marketing students.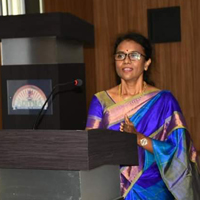 Smt. Swarna Latha
Smt. Swarna Latha, Nutritioinist, National Award Winner, Entrepreneur delivered Guest Lecture on Challenges and Opportunities of Entrepreneur.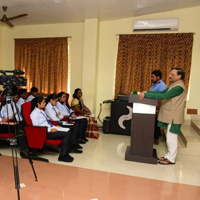 Dr. Yendamoori Veerendranath
Dr. Yendamoori Veerendranath- A Novelist, State Sahithya Academy Award Winner delivered guest Lecture on "Lateral Thinking".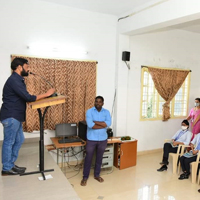 Mr. Chiranjeevi
Mr. Chiranjeevi, Founder and Chief Coach, MEDHA delivered Guest Lecture on "Steps for Success"